In this article, I am going to show the simple steps on How To Apply For KRA PIN Registration online at Cyber.co.ke Portal. 
KRA PIN is one of those documents that is a must have for any Kenyan who has attained the age of 18 years. Also if you are a non-Kenyan (foreigner), then you definitely need to have your KRA PIN with you.
Where KRA PIN is needed in Kenya
There are many areas where a KRA PIN Certificate will come in handy or will be needed as a major or even minor requirement. Below are some of the most important ones:
Opening a bank account in Kenya

Creating NTSA TIMS account

Online Kenyan e-Passport Application

Government / County tenders applications

Loan applications i.e. HELB loans

Job application i.e both KRA PIN and Tax Compliance Certificate

Huduma Namba application

Paying for motor vehicle inspection i.e. Advance Tax
The above are just a few of the areas where you will need a KRA PIN, so as you can see it is one of those documents that you should not take for granted, you never know when you need it and when it will come in handy for you in your day to day activities in Kenya.
Now let us jump into the step by step guide on How to apply for KRA PIN registration online using Cyber.co.ke Portal. As you already know, here at Cyber.co.ke Portal, we have a team of experts who will assist you in applying for KRA PIN registration quickly and easily and have your KRA PIN Certificate sent to your email address.
How To Apply For KRA PIN Registration
The first step in the process on KRA PIN Registration is to visit our KRA PIN Registration page using the above link.
Step 2: Fill in the KRA PIN Registration Form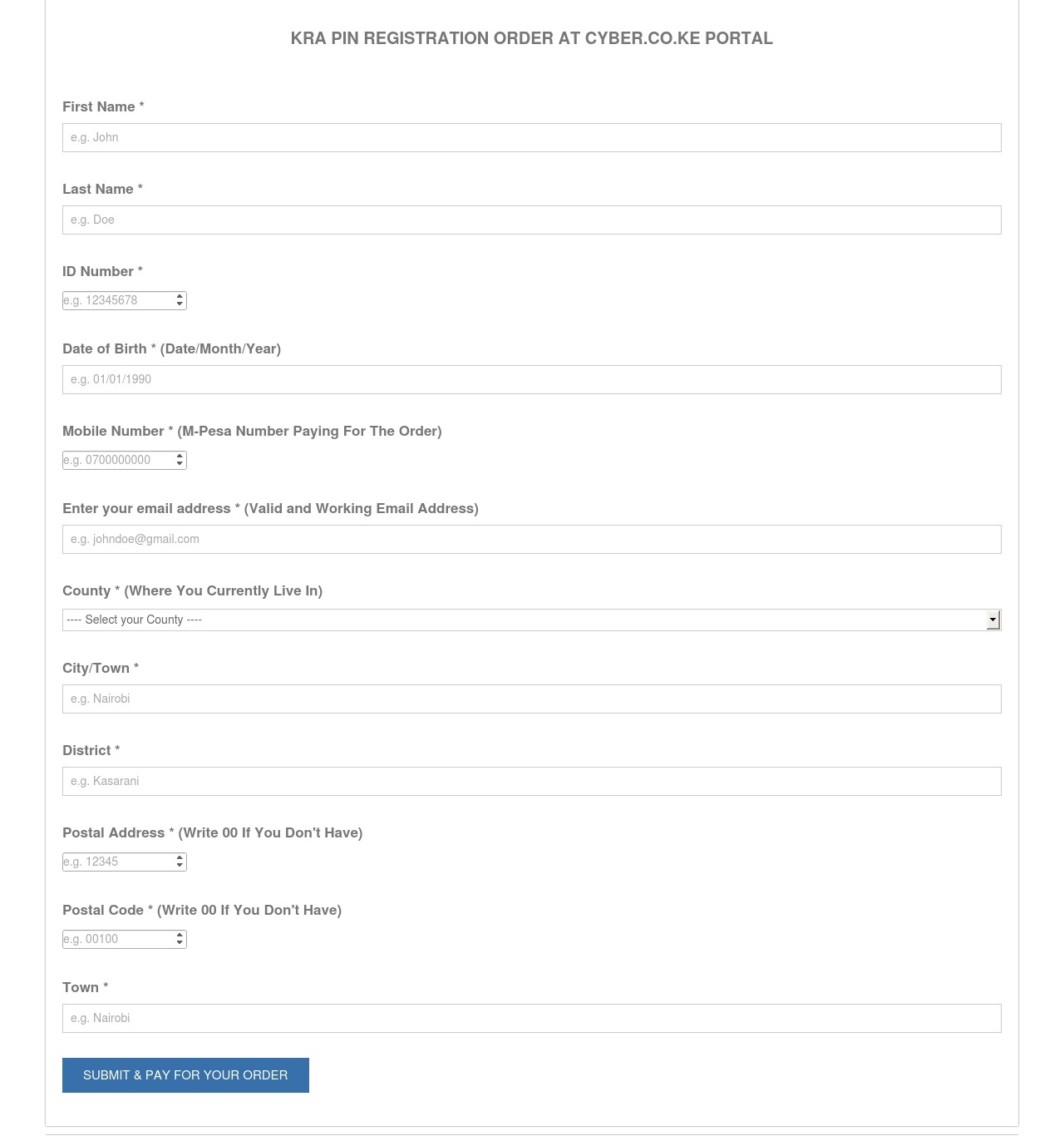 The next step will be to fill in the KRA PIN Registration form online with the required details. 
First Name

Last Name

ID Number / Alien Individual Number / Passport Number

Date of Birth

Mobile Number

Email Address

County

City/Town

District

Postal Address

Postal Code

Town
The above are the basic information that you need to fill on the KRA PIN Registration form. The fields are self explanatory and easy to understand. 
Step 3: Submit your order for KRA PIN Registration
The next step will be submitting your online order for processing at Cyber.co.ke Portal. You can submit your order by clicking on the submit button on the registration form. 
Step 4: Pay for the online order using M-PESA
Go to Lipa na M-Pesa

Select Paybill

Enter M-PESA Till Number: 9181993
Enter the amount: Kshs. 200

Enter your M-PESA PIN and confirm the details

You will get notification from M-PESA upon successful payment to CYBER.CO.KE.

We shall send the processed order to your email address once the order has been marked as processed on our end. 
Once the order and payments are received, then the order is processed by our online support staff and submitted immediately to your email address for you to download and print your KRA PIN Certificate. By following the above simple steps you can now apply and have your KRA PIN within 5 minutes of placing your order at Cyber.co.ke Portal. 
Matthews Ohotto is an accomplished Blogger with a Bachelor of Business Information Technology (BBIT) degree, Second Class Honours Upper Division from Jomo Kenyatta University of Agriculture and Technology (JKUAT). He is the Founder of CYBER.CO.KE and also serves as the Senior Content Editor at CYBER.CO.KE Blog. With a wealth of knowledge and experience as an iTax Blogger at CYBER.CO.KE Blog, his primary mission and responsibility revolves around researching, crafting and writing informative blog content showing the necessary steps to follow in relation iTax/KRA Portal. 
ARE YOU LOOKING FOR QUICK AND EFFICIENT KRA SERVICES IN KENYA? AT CYBER.CO.KE WE ARE HERE TO HELP AND ASSIST YOU CONVENIENTLY. SUBMIT YOUR REQUEST ONLINE AT CYBER.CO.KE TODAY.