In this blog post, I am going to share with you the process of How To Update Your Profession in iTax. Get to know how to update your iTax Profession.
Kenya Revenue Authority (KRA) recently made some changes on the Employee Profession on iTax Portal. Basically the new changes incorporated three new features on the Employee Profession i.e: Major Group, Sub Group and Minor Group.
This is inline with the fact that each Employee Profession belongs to a Major Group, which can be divided into a Sub Group and finally a Minor Group of that Employee's Profession in Kenya.
Kindly note Employee Profession enhanced on iTax was added as a data cleaning exercise on iTax by Kenya Revenue Authority (KRA).
Why Kenya Revenue Authority (KRA) Made Changes to Employees Profession in iTax
The minor changes that KRA made a few weeks ago on the iTax Portal is part of "the solution that seeks to validate and update taxpayers' professional details as part of the ongoing data cleaning initiatives by Kenya Revenue Authority (KRA)."
This is the second major change that Kenya Revenue Authority (KRA) has made to the iTax Portal in a span of 1 year. The first change was basically the introduction of the OTP (One Time Password) whose main function was to update taxpayers emails on KRA databases. 
Basically, KRA seeks to have an updated database with proper records on the Employees Profession in Kenya. So, these new changes affect both Students, Employees, Self-Employed, Businesses and Companies in Kenya.
How To Update Your Profession in iTax
To update your Profession on iTax, you first have to ensure that that your KRA PIN is active on the iTax Portal. Also you will need your KRA PIN Number and your iTax Password.
If you have forgotten your KRA PIN Number, you can request for KRA PIN Retrieval Services today. Also if you have a KRA PIN Number that is not yet on iTax, you can request for our KRA PIN Update Services.
With the new feature in place, when you log into your iTax Account, you will see a screen pop up asking you to update your Profession. Yes, you can't proceed to using your iTax account until you have updated your Employee Profession. 
A profession is a paid occupation, especially one that involves prolonged training and a formal qualification.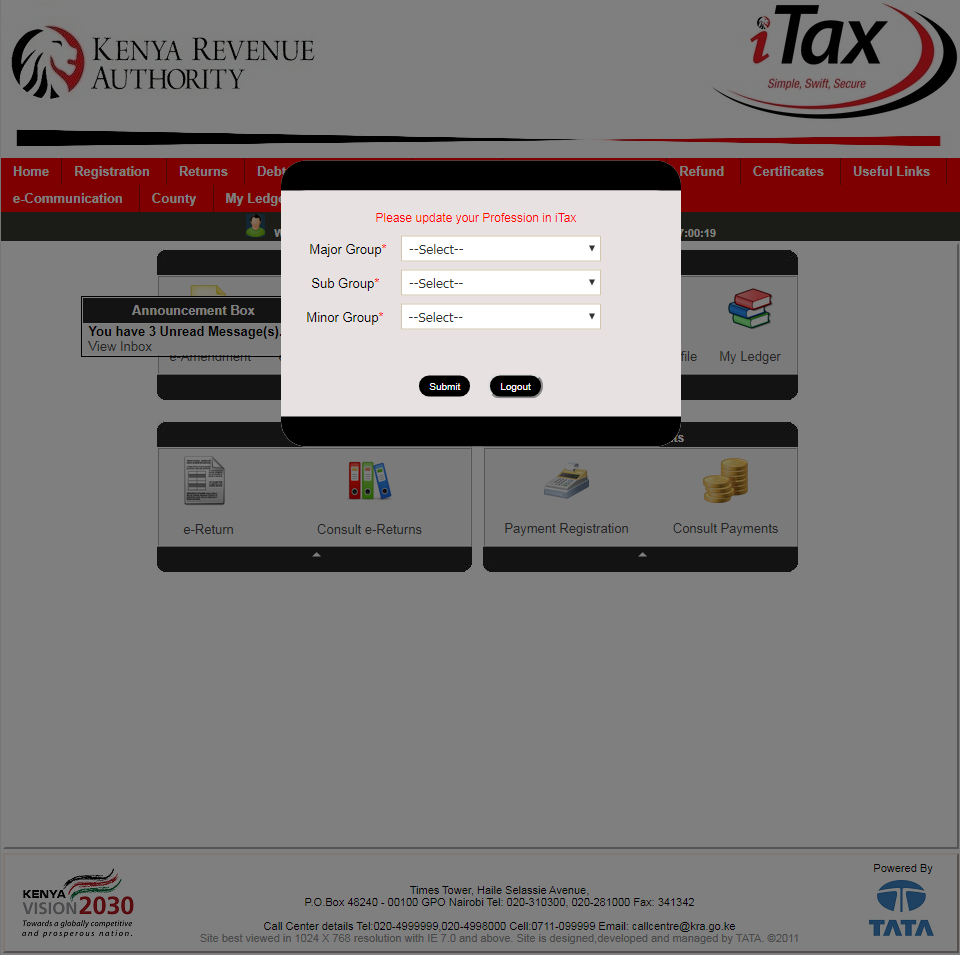 If you log into your iTax Account, the new thing that you will probably see is the above pop up dialog asking you to update you profession in iTax. Please not that if you choose not to update your profession in iTax, you wont probably be able to use the full functionalities of iTax.
What does Major Group, Sub Group and Minor Group mean?
Kindly note the sub division in Employee Profession on iTax is done to ensure your profession is captured accordingly. Whatever you select on Major group leads you to subgroup then to major group.
So, my recommendation to you is to update you profession in iTax. This will save you alot of time putting into consideration that we are in the season of filing KRA Returns. 
In this example on How to Update your Profession in iTax, I am going to use a simple example of a user who has probably finished high school and is in college pursuing a Certificate course in Computer Packages. The screenshot will be as shown below.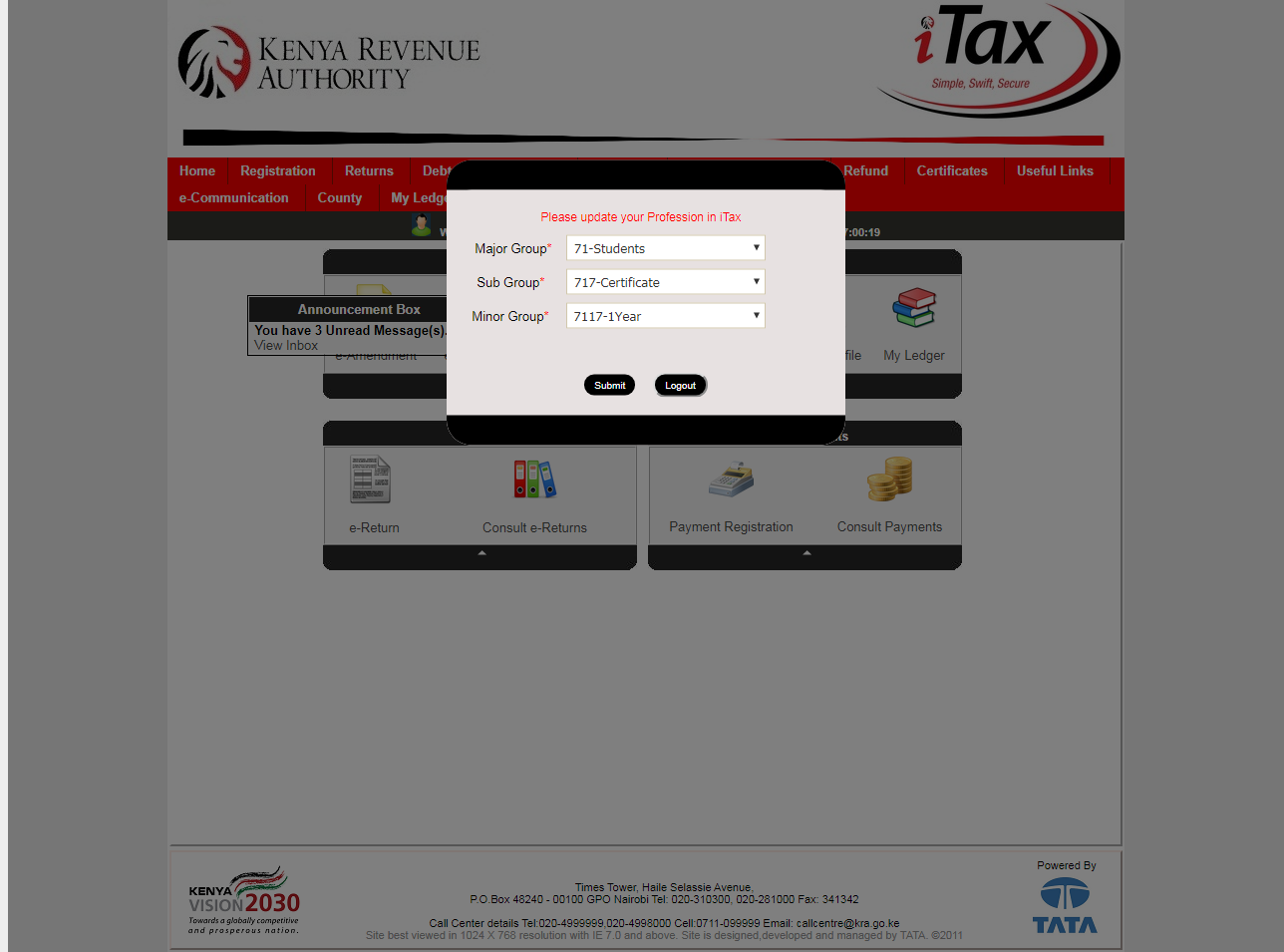 In the scenario that you are a student with an active KRA PIN on iTax, and you don't have a profession (still learning), you might probably use the groups of profession as shown above.
Major Group — Student, Sub Group — Certificate, Minor Group — 1 Year (assuming most certificate courses take 1 year to complete).
The are many professions that you can choose from from the major group. I am just going to outline the major profession groups that you can choose depending on where you belong.
Major Groups of Employee's Profession in iTax
Senior Government Officials

Professionals

Service Workers

Transport

Craft and Related Trade Workers

Plant and Machine Operators, and Fisheries Workers

Agriculture

Mining

Construction

Manufacturing 

Students
If your major profession does not fall on the above list, you can select the nearest option to it so as to enable you update your Profession in iTax. Each of the Major Group has its sub group that has various professions.
To finalize everything up, the most common challenge that you might encounter is that the Major Group, Sub Group and Minor Group selection boxes don't function. There is a simple solution to this. Just clear your browser cookies and cache and you will be able to update your Profession in iTax with ease.
Matthews Ohotto is a highly accomplished individual who holds a Bachelor of Business Information Technology (BBIT) degree with Second Class Honours Upper Division from Jomo Kenyatta University of Agriculture and Technology (JKUAT). He is the Founder of CYBER.CO.KE Portal and the Content Editor at CYBER.CO.KE Blog. As an Experienced iTax Blogger at CYBER.CO.KE Blog, his sole purpose and role is Creating Content for Taxpayer Education (assisting the taxpayer on various tax obligation needs through well written step-by-step iTax Blog Posts and Tutorials) thus ensuring Tax Compliance.
| | | |
| --- | --- | --- |
| KRA PIN REGISTRATION | Are you looking for a New KRA PIN Number in Kenya? Submit your request online today at CYBER.CO.KE for quick and efficient KRA PIN Registration services. | |
| KRA PIN RETRIEVAL | Are you looking for a Lost KRA PIN Certificate in Kenya? Submit your request online today at CYBER.CO.KE for quick and efficient KRA PIN Retrieval services. | |
| KRA PIN UPDATE | Are you looking to Update an Old KRA PIN Number on iTax Portal in Kenya? Submit your request online today at CYBER.CO.KE for quick and efficient KRA PIN Update services. | |
| KRA PIN CHANGE OF EMAIL ADDRESS | Are you looking to change the Email Address Linked to a KRA PIN Number in Kenya? Submit your request online today at CYBER.CO.KE for quick and efficient KRA PIN Change of Email Address services. | |
| SELF HELP GROUP KRA PIN REGISTRATION | Are you looking to register a new KRA PIN Number for your Self Help Group in Kenya? Submit your request online today at CYBER.CO.KE for quick and efficient Self Help Group KRA PIN Registration services. | |
| COMPANY KRA PIN REGISTRATION | Are you looking to register a new KRA PIN Number for your Company in Kenya? Submit your request online today at CYBER.CO.KE for quick and efficient Company KRA PIN Registration services. | |
| KRA NIL RETURNS FILING | Are you a Student or Unemployed looking to file KRA Nil Returns in Kenya? Submit your request online today at CYBER.CO.KE for quick and efficient KRA Nil Returns Filing services. | |
| KRA EMPLOYMENT RETURNS FILING | Are you an Employee or Employed looking to file KRA Employment Returns in Kenya? Submit your request online today at CYBER.CO.KE for quick and efficient KRA Employment Returns Filing services. | |
| TURNOVER TAX (TOT) RETURNS FILING | Are you registered for Turnover Tax obligation and want to file Turnover Tax Returns in Kenya? Submit your request online today at CYBER.CO.KE for quick and efficient Turnover Tax Returns Filing services. | |
| MONTHLY RENTAL INCOME (MRI) RETURNS FILING | Do you own or have rental houses and want to file Monthly Rental Income in Kenya? Submit your request online today at CYBER.CO.KE for quick and efficient Monthly Rental Income Returns Filing services. | |
| PAY AS YOU EARN (PAYE) RETURNS FILING | Are you registered for PAYE obligation and want to file PAYE Returns in Kenya? Submit your request online today at CYBER.CO.KE for quick and efficient PAYE Returns Filing services. | |
| VALUE ADDED TAX (VAT) RETURNS FILING | Are you registered for VAT obligation and want to file VAT Returns in Kenya? Submit your request online today at CYBER.CO.KE for quick and efficient VAT Returns Filing services. | |